Let's write it in the book of love!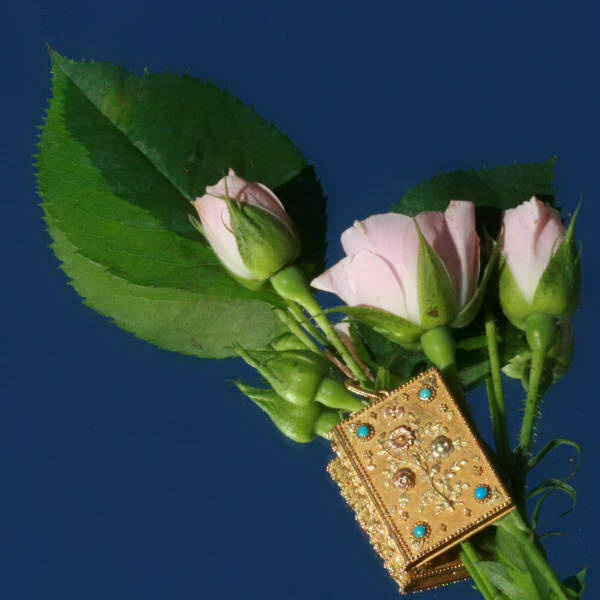 (as most of the Adin pictures, this also is a non-edited true picture)
Georgian gold love pendant
Look what we found! A truly magnificent early Victorian gold love pendant with forget-me-nots and roses in the shape of a book. Inside there is a compartment where still a lock of hair is kept. On the outside of the locket on both sides we see a little bouquet of flowers, rosesand forget-me-nots and when looking close we can even recognize a little butterfly.
Antique jewelry object group:
lockets and pendants
Country of origin:
France
Style:
Georgian
Period:
ca. 1820
Source of inspiration:
Mother nature (see also
flower symbolism
)
Theme:
book
Material:
18K tri-color (red, yellow, green) gold
Technique:
Granulation is a technique where the goldsmith uses very small balls (granules) of metal, which are not soldered to the piece but welded. This technique demand very high skills and precision from the maker.
Extra information:
Although not certain, the light blue color used in this jewel could refer to the color of the forget-me-not flower, a popular color used among lovers.
Precious stones:
eight turquoises
Birthstones:
Turquoise is the birthstone (or month stone) for December.
Hallmarks:
The French control mark representing an ram's head that was in use in France from about 1817.
Condition:
excellent condition
Dimensions:
3.04 cm (1.20 inch) x 2.42 cm (0.95 inch)
Weight:
19.80 gram (12.73 dwt)
Reference Nº:
10165-0470
P.s. Perhaps you know someone who might be interested in receiving our mails? Forward them this mail and they can subscribe themselves at:
our subscription page