Recipes d'Amour
The "oh la la" soup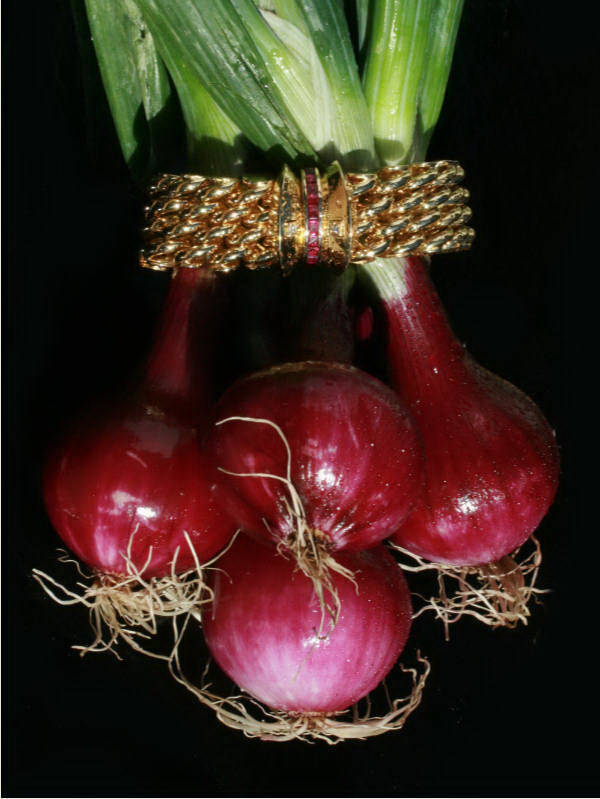 (as most of the Adin pictures, this also is a non-edited true picture)
"La nouvelle cuisine d'Adin"
proudly presents:
Onion Summer Bracelet Soup
The secret trick to the great Adin French Onion Summer Bracelet Soup is starting with good beef stock. Another important point of attention is the proper caramelization of the onions. Caramelizing onions take at least half an hour of slow cooking the onions over medium high heat. The browning (or caramelizing) of the onions brings out the sweetness in them.

Ingredients

* 6 large red (or yellow) onions, peeled and thinly sliced.
* Olive oil
* 1/4 teaspoon of sugar
* 2 cloves garlic, minced
* 8 cups of beef stock, chicken stock, or a combination of the two
* 1/2 cup of dry vermouth or dry white wine
* 1 bay leaf
* 1/4 teaspoon of dry thyme
* Salt and pepper
* 8 slices of toasted French bread
* 1 1/2 cups of grated Swiss Gruyere with a little grated Parmesan cheese
* one antique bracelet (a nice estate or vintage bracelet can do too)

Method

1) Put on the bracelet before you start cooking.
2) Sauté the onions in the olive oil in a large saucepan on medium high heat until well browned (not burned!) about half an hour (or longer). Add the sugar about 10 minutes into the process to help with the carmelization.
3) Add garlic and sauté for 1 minute. Then add the stock, vermouth (or wine), bay leaf, and thyme. Cover partially and simmer until the flavors are well blended, for another 30 minutes. Season to taste with salt and pepper and take out the bay leaf.
4) Serve either in individual oven-proof soup bowls or one large casserole dish. Ladle the soup into the bowls or casserole dish, cover with the toast and sprinkle with cheese. Put under the broiler for 10 minutes at 180 degrees Celcius (350 degrees Fahrenheit), or until the cheese bubbles and is slightly browned. Serve immediately.


Reason for the bracelet in this recipe?
Why not? Any reason to wear antique and estate jewelry is a good one.

Preparation time: ca. 75 min
Grade of difficulty: easy
Calories per portion: definitely

P.s. Perhaps you know someone who might be interested in receiving our mails? Forward them this mail and they can subscribe themselves at:
our subscription page