Recipes d'Amour:
How to make her Queen of the Day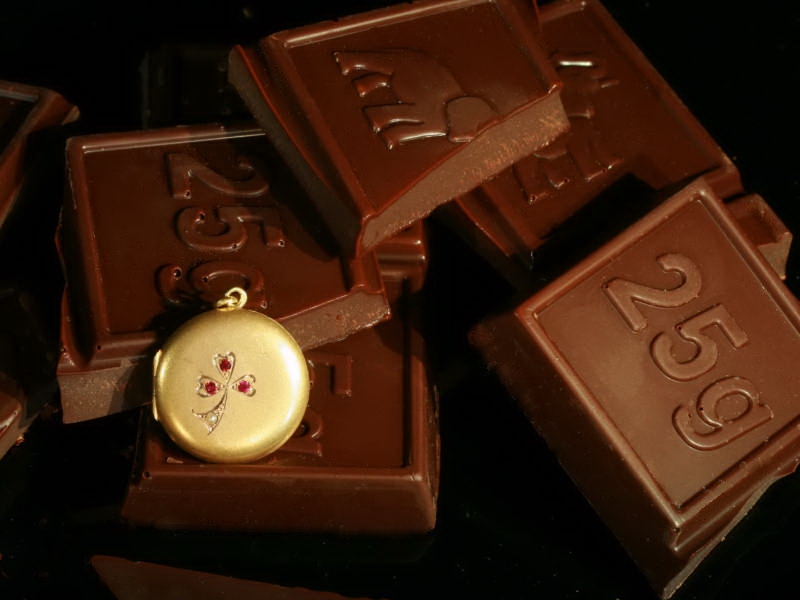 (Click the picture to get to all our lockets.)

La nouvelle cuisine d'Adin
proudly presents:
Adin's Epiphany Present Pie
One of the customs for the 6th of January (also called "Epiphany" or "Twelfth Night") is to bake a cake and hide something in it. The one who gets the piece of the pie with the hidden object can call himself King or Queen for that Day.

This folkloric practice was already used by the old Romans as a ritual at the Festival of Saturn. It was a time of celebration, visits to friends, and gift-giving, particularly of wax candles, and earthenware figurines.

Depending on the place one is in, the hidden object can be a bean (England), almond (Belgium), a little porcelain doll (France), and obviously a piece of antique jewelry when having been in The Garden of Adin.

Ingredients for a 6 - 8 portions pie
:
-
- 200 grams butter at room temperature -
-
- (plus a little bit of butter for buttering the baking tin) -
-
- 200 grams almond powder -
-
- 200 grams sugar -
-
- 4 eggs -
-
- 7 tablespoons self raising flower -
-
- 100 grams dark chocolate -
-
- 1 piece of antique jewelry -
-
Method:
-
Stir up the butter, almond powder and sugar
till smooth and creamy.
-
Add the eggs one by one.
-
Add 6 spoons of flower with a wooden spoon.
-
Divide the dough in two.
-
Melt the chocolate (2 minutes in microwave).
-
Stir the melted chocolate in one half of the dough.
-
Butter the cake tin (diameter ± 26 cm or 10 inch)
and disperse with the remaining flower.
-
Randomly scoop the dough without the chocolate
into the cake tin.
-
Add the chocolate dough.
-
Shovel the two from bottom to top
without really mixing the two colors.
-
Add the antique piece of jewelry (if heath-resistant)
and smoothen the top.
-
If the piece of antique jewelry is not heath-resistant
than hide it in pie when pie is cooled off after baking.
-
Bake the pie within 35 to 45 min.
in a prewarmed oven at 170°C (or 340° F).
-
The pie is ready when a knife (or knitting needle)
that you insert is dry when taken out.
-
Serve:
Best secretly mark the part of the pie with the jewel.
So you are sure to give your loved one the right piece.
Preparation time:
ca. 15 minutes
Baking time:
35 - 45 minutes
Grade of difficulty:
medium to easy
Nutrition Facts
Serving Size 1 piece
Amount Per Serving
Calories more than enough
Calories from Fat 190
% Daily Value *
Total Fat 34g
35%
Saturated Fat 28g
30%
Trans Fat


Cholesterol 15mg
6%
Sodium 150mg
6%
Total Carbohydrate 40g
15%
Dietary Fiber 2g
8%
Sugars 21g


Protein 2g


Vitamin A
0%
Vitamin C
0%
Calcium
4%
Antique Jewelry
100%
Aesthetics
100%
Good Taste
100%
Romantics
100%
* Percent Daily Values are based on an average diet. Your daily values may be higher or lower depending on your antique jewelry needs.
P.s. Perhaps you know someone who might be interested in receiving our mails? Forward them this mail and they can subscribe themselves at:
our subscription page