Rare extra wide antique wedding bands
from Zeeland in the Southern Netherlands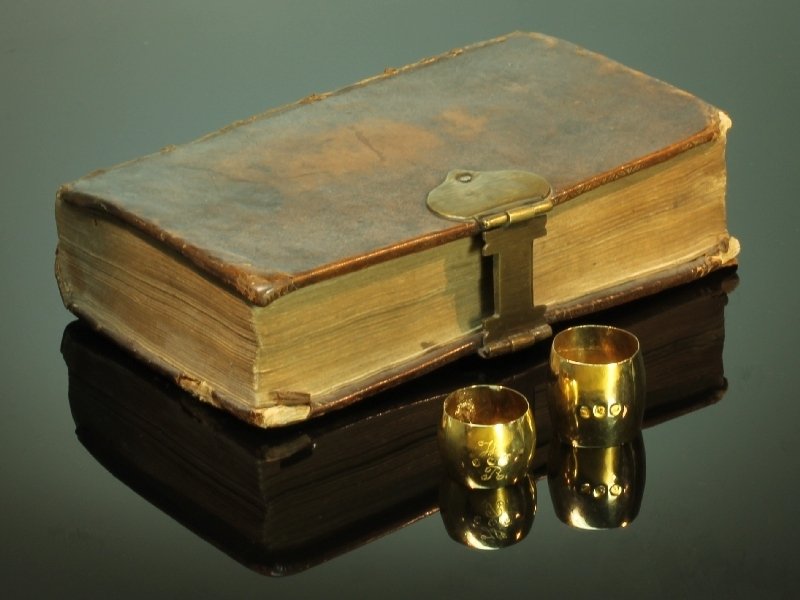 Click here and here to read all about both antique Dutch wedding bands.
These extraordinary wide wedding bands are called "tonnenring" (Dutch for barrel ring). A typical regional piece of jewelry from Zeeland, the Southern coastal part of the Netherlands where every village had its own specific type of jewelry. Even more, every religion had its own typical distinctive differences of wearing and style.
In the county Walcheren this ring came into fashion in the second half of the 19th century (1850-1900). A wide gold smooth wedding band, sometimes engraved with a wreath of leaves and the initials of the bride and groom. It was virtually impossible to wear these rings while working so they were only used to show off when going to church or at holidays and festivals.
On pictures from that time, the hands were held in such a position that all the rings would be in seen on the picture. Such rings are also described in the book "Streeksieraden in Zeeland" (Dutch for "Regional jewelry in Zeeland") at page 76.
See our antique and estate jewelry collection in:
Euro's
US Dollars
British Pounds
Japanese Yens
Australian Dollars
Canadian Dollars

P.s. Perhaps you know someone who might be interested in receiving our mails? Forward them this mail so they can subscribe themselves at:
our subscription page